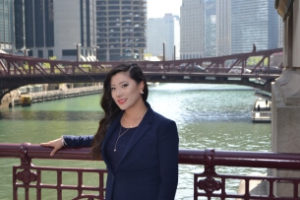 Associate, Personal Injury
Christine S. Kim is an Associate Attorney at Goldstein Bender & Romanoff. She concentrates her practice on injury cases arising from car accidents, truck accidents, premises liability actions, dram shop actions, medical malpractice, construction accidents, defective medical products, products liability, nursing home injuries, and an assortment of other types of negligence.
Christine graduated, cum laude from Loyola University Chicago School of Law where she received her Juris Doctor. During law school, Christine was a Dean's List Scholar, an editor of Loyola's Journal of Regulatory Compliance, and earned dual certifications in Health Law and Trial Advocacy. During law school, Christine worked for a Mental Health law firm in Chicago defending both the rights of disabled individuals and healthcare providers. Christine received her undergraduate degree from Northern Illinois University, where she co-founded NIU's mock trial program.
After law school, Christine worked as an insurance coverage defense attorney. As a result, she has the inside knowledge of knowing how insurance companies operate. However, after turning from the dark side, Christine joined Goldstein Bender & Romanoff in their fight to help injured, disabled, and maltreated individuals from the very insurance companies she used to defend.
Over her legal career, Christine has written twenty federal appeals on behalf of the disabled against major insurance companies to the Seventh Circuit Court of Appeals and the Northern District of Illinois. Due to her passion for increasing access to healthcare for everyone regardless of geographic location, Christine is a committee member of the Telehealth Law Forum of Illinois.
Born and raised in Chicago, Christine prides herself on forever being a student. In her free time, she actively conquers escape rooms, volunteers for causes in Mental Health law, finds random and unique events on Groupon to drag her friends to, and also loves cooking and eating all types of exotic foods.
Email: ckim@gbrlegal.com